Welcome
Hi, my name is Jodie and I'm a self taught fibre artist who is very passionate about weaving.
My work combines traditional weaving techniques with contemporary fibres and colour combinations...I also like to put my own spin on things and come up with something really unique.
I decided to launch my business under the name 'And She Flew' because to me the words, (and birds in flight) signify freedom and courage.
I totally believe with a little bit of courage and a big leap of faith anyone can follow their dreams.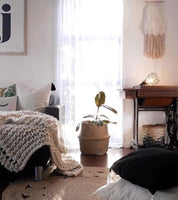 "In the midst of change we often discover wings we never knew we had."
Ekaterina Walter